As lifelong motorcyclists, we here at MotoQuest are naturally drawn to any and all attractions around the world that feature pretty much anything with a motor. Add to that "gearhead" mentality an affinity for history and cultural significance, and it becomes clear why we make a point of visiting any motorcycle, automobile, or even aviation museum when exploring a new country or region by motorbike. In this piece we take you on a virtual tour of some of these museums that we visit on MotoQuest Adventures around the world.
---
The Honda Collection at Twin Ring Motegi
Motegi, Japan  //  Japan MotoGP Adventure
One would hardly expect that a stroll through a motorcycle collection could be a highlight on a trip that includes grandstand seats and paddock access at a MotoGP race! But the Honda Collection at Twin Ring Motegi Raceway is the cherry on top of this spectacular adventure that combines the thrill of racing with Japanese culture and cuisine. This museum, on the grounds of the famed race track, opened in 1998 and houses an impressive collection of consumer and racing oriented artifacts.
Fun Facts
The museum contains approximately 350 automobiles, motorcycles and power products.
Every machine in this collection is kept in running order.
Times are posted when visitors can see the display models fired up.
---
The Iwashita Collection
Yufu, Japan  //  Japan Three Island Tour
It's no secret that Japan is a motorcycling nation. With some of the world's most prominent bike manufacturers, a rich legacy in Superbike racing, and a healthy population of moto enthusiasts, the two-wheeled culture sets the tone nicely for our Japan Three Island Tour. A favorite stop on this trip is at the Iwashita Collection in Yufu, Japan, which displays hundreds of vintage motorcycles from all over the world in a beautiful building accented by stained glass windows, chandeliers and old movie posters. You may or may not spot a glimpse of collection's enigmatic owner, Mr. Iwashita, but you'll have plenty else to look at in this fascinating museum.
Fun Facts
The Iwashita Collection contains approximately 500 motorcycles.
It is often called "the greatest bike hoard you've ever seen."
The Collection's crown jewel is the 1964 Ducati 1260 Apollo prototype. It was purchased by Mr. Iwashita in 2002, and is reportedly valued over $1 million!
---
Nakano's Vintage BMW Collection and Restore Shop
Hita, Japan  //  Japan Three Island Tour
Another prominent collector is Mr. Nakano, who displays a wondrous collection of classic BMWs — along with other vintage motorcycles, old juke boxes, Coca-Cola memorabilia, and pretty much anything else — at his restoration shop. A Flat Twin Club member, Mr. Nakano restores vintage BMW motorcycles that are brought to him from all over the country. MotoQuest Founder Phil Freeman met Mr. Nakano many years ago and has had the pleasure of traveling with him around the world: "I have traveled all over the world with him and he was one of those travel companions that was always up for an adventure, willing to help out. No matter what happened on the road, he had a sparkling smile on his face. To see him for so briefly just one time a year was bitter-sweet, but in life, even if you have a second to spend with someone, you should savor it."
Fun Facts
Mr. Nakano's shop has been in business for over 45 years.
A sign outside his shop reads: "If you want to be happy for a day, drink. If you want to be happy for a year, marry. If you want to be happy for a lifetime, ride a BMW."
Mr. Nakano's collection focuses on vintage BMWs from the 50's through the 70's, but also includes a variety of other motorcycles.
---
The National Motorcycle Museum
Solihull, UK  //  Isle of Man and Wales Adventure
Britain has a rich motorcycling history, producing some of the world's most beloved motorcycles as well as some of the world's most successful racers. It's no wonder then that the National Motorcycle Museum is recognized as Britain's finest and largest collection of motorcycles. Started back in 1984 with 350 bikes, the Museum now hosts over 1,000 machines from 170 different manufacturers, making it the largest motorcycle museum in the world! On a trip that lets riders witness the adrenaline rush of the Isle of Man TT race, there is little letdown in browsing a collection of this magnitude.
Fun Facts
A notable recent acquisition was a 1962 Marsh 495cc MR4 Racing motorcycle from legendary enthusiast Fred Marsh. The MR4 was essentially a homemade race bike nine years in the making and the Museum acquired it at auction in 2008, 30 years after Marsh's death.
The Museum's earliest machine dates back to 1898, and the collection ranges all the way to modern day with some of the latest superbikes.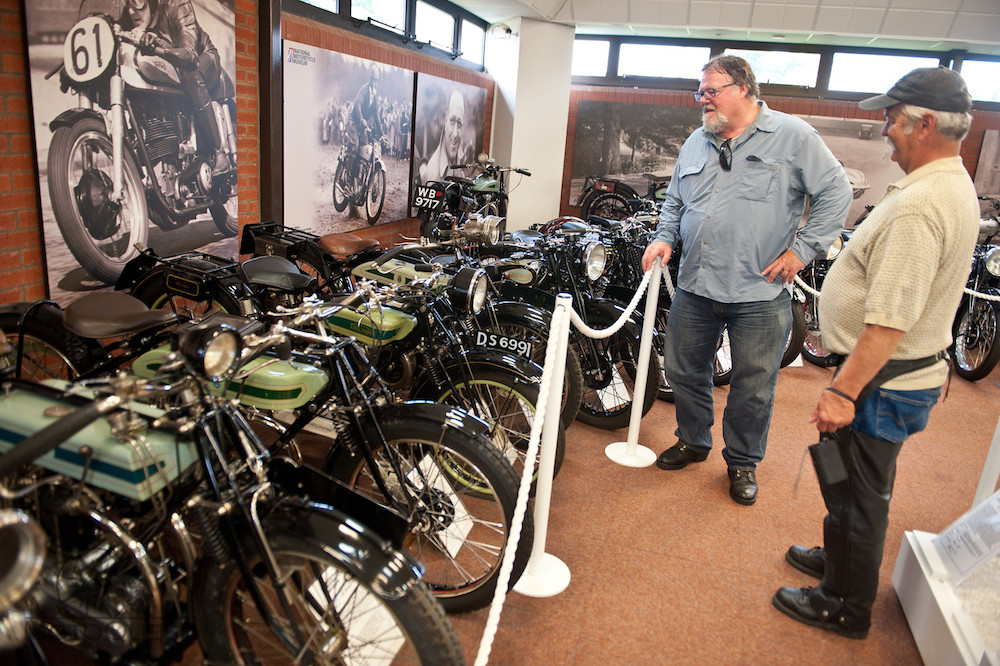 ---
The A.R.E Motorcycle Collection, Isle of Man
Kirk Michael, Isle of Man, UK  //  Isle of Man and Wales Adventure
Where there is motorcycle racing, there is bound to be a museum. That's especially true of the Isle of Man, home of one of the world's most notorious racing events, the annual Isle of Man TT. The A.R.E Motorcycle Collection is actually located on the TT Course and is a must-see for any riders passing through. Built on the grounds of the historic Old Vicarage house, this collection houses more than 100 bikes from brands like Triumph, AMC, BSA, Vincent, Moto Guzzi and more. This museum also serves as a restoration facility, so if you visit more than once you will definitely see something new!
Fun Facts
The A.R.E Collection is actually the personal collection of longtime TT patrons Pat and Tony East, who purchased the building in 2002 and decided it would be the perfect place for a motorcycle museum.
The collection focuses on bikes from the 1930s and all machines are kept in running order.
The Old Vicarage building is more than 250 years old, and guided tours of the property are run by appointment.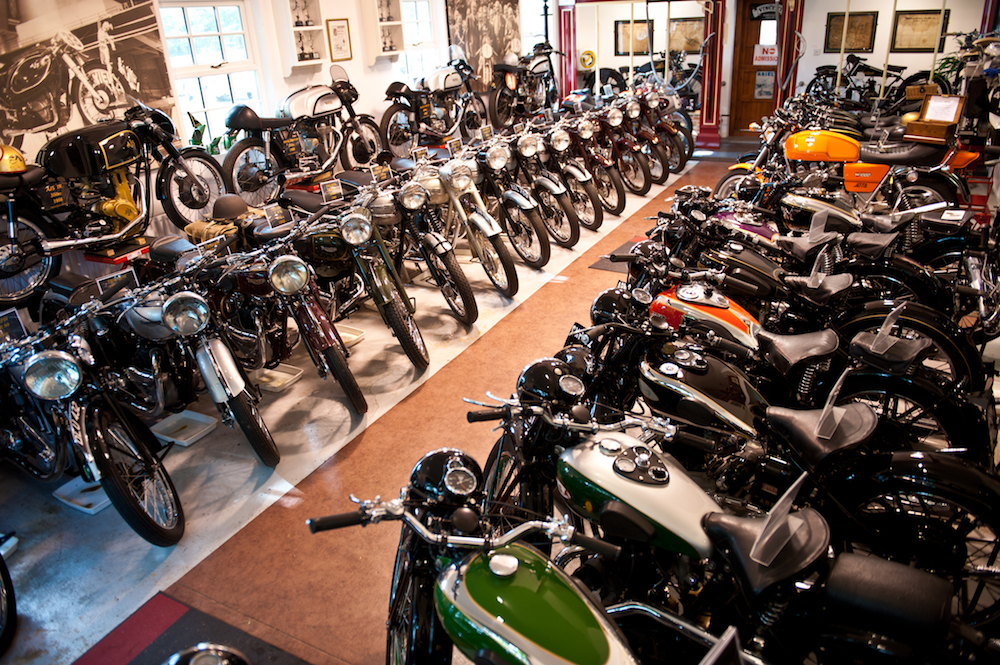 ---
Evergreen Aviation and Space Museum
McMinnville, Oregon, USA  //  Trail of Lewis and Clark Adventure
It's a bird, it's a plane, it's…the Evergreen Aviation and Space Museum! While this is a bit of a departure from our favorite two-wheeled machines, most gearheads can appreciate the innovation and engineering evident in aircraft. The Evergreen Museum displays a number of military and civilian aircraft and spacecraft, and is known for housing the famous Hughes H-4 Hercules Spruce Goose. The Trail of Lewis and Clark Adventure is one of our more history-oriented trips, so a visit to this museum provides a touch of 20th Century history that was so important to the development of the Pacific Northwest.
Fun Facts
When the Spruce Goose exhibit in Long Beach, California was announced to be closing, the Aeroclub of Southern California began the search for a new home. Two years later the Evergreen Museum won the bid with a proposal to feature the aircraft as a central exhibit.
The plane was disassembled and sent by ship through the Pacific Ocean to the Columbia River and Willamette River to Dayton, where it was transferred by trucks the rest of the way.
The Spruce Goose underwent 8 years of extensive restoration, and in 2000, the aircraft was finally reassembled.
---
Gateway Auto Museum
Gateway, Colorado, USA  //  American Southwest Adventure
The starkly beautiful landscape of the American Southwest may be the last place you'd expect to find one of the most pristine automobile collections on the planet. Gateway, Colorado is home to the Gateway Auto Museum, which displays dozens of the finest vehicles form the privately owned Hendricks Collection. More than simply displaying some nice cars, though, the Museum aims to tell the story of how the automobile impacted society through a visual and educational experience.
Fun Facts
The Museum displays more than a century of history from the 1906 Cadillac Model H Coupe to Jimmie Johnson's NASCAR Chevrolet.
Walter Cronkite narrates the opening video presentation about the American Automobile and its place in society.
The Museum's "Mona Lisa" is the 1954 Oldsmobile F-88 Concept Car, valued at $3.24 million.
The Hendricks Collection is owned by Discovery Channel founder John Hendricks and his family.
---
Auto Museum Moncopulli
Puyehue, Chile  //  Patagonia End of the Earth Adventure & Northern Patagonia Adventure
Perhaps the most unlikely museum of all that we visit is the Auto Museum Moncopulli in Chile. As riders on our Patagonia End of the Earth Adventure make their way down through the Andes of Chile and Argentina, they will come upon the second largest Studebaker collection in the world. 20 minutes east of Osorno, out in the middle of nowhere, you will find Bernardo Eggers Reccius's collection of more than 70 Studebakers from the 1930s-1960s.
Fun Facts
While the Museum does claim to hold the second largest Studebaker collection, classics from brands like Ford, Chevrolet, Mercedes Benz and more are also on display.
The Museum holds a total of 140 vehicles, and is also home to vintage agricultural machinery, hundreds of cameras and photography equipment, vintage radios and home appliances, and more.