In case you hadn't heard, MotoQuest prides itself on its customer service. Our team is extremely dedicated to ensuring you have the best adventure, whether that is on an organized trip or in a DIY rental from one of our four rental locations.
We get a lot of inquiries that either are curious what motorcycles are in our fleet or what bike would be best suited for me. With that, we asked our enthusiastic Robyn "RoKo" Kocienski to go through our rental fleet and give some of the specs on each that might help YOU hone in on a model that is right for the adventure ahead! Once you get a handle on our fleet, you should also know these models are all available on any domestic MotoQuest group trip. Can you say American Southwest on a BMW R1250 GS!?
(Photos from our renters on Instagram – @thelivelymoustache & @upshift_online)
Here's RoKo:
Salutations MotoQuestrians!
I'm so excited to be taking over a chunk of today's newsletter. I've been a motorcycle vacation addiction enabler with MotoQuest for a few years, and often get questions from guests regarding which motorcycle they should rent for their adventures, so I've compiled a brief overview of each of our motorcycle models below.
While this can give you an idea of what to expect from each rig, the best advice we give to folks planning to venture out on one of these models for the first time is to visit their local dealership and throw a leg over an identical motorcycle.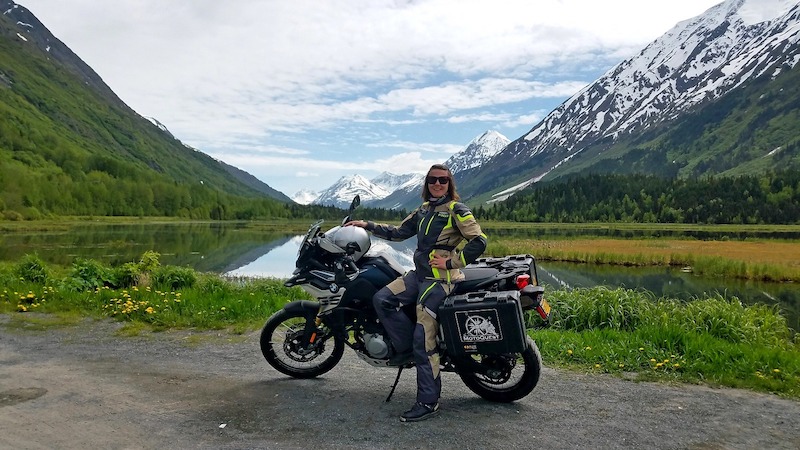 (The one and only RoKo)
One of the benefits of working here is that the staff gets to break in the new motorcycles when they arrive. It's hard work grinning ear to ear on a brand new machine, but we toil to better serve you. Our perseverance is strictly in the interest of better assisting guests when they're selecting motorcycles for their adventures. Jamming a few hundred miles on a new motorcycle allows our professional enablers to give better descriptions and recommendations to our riders. I promise. 
Without further ado, here's our fleet…
Big Takeaway: Incredible for touring on pavement in luxury
Seat height: Adjustable 
31.7" – Low position, 32.5" – High position
Other details: 17" Cast Aluminum Rims
Wide, comfortable and heated seats, this motorcycle is a joy for both rider and passenger. The rider also has the benefit of heated grips and a seat which can be set in a high or low position. All of our RT's come with BMW brand side cases as well as a top case that fits two standard road helmets and serves as a passenger backrest. Yes, the passenger seat is also heated. The common review from our team is that despite its size, it is much more nimble than riders expect. This might be why so many law enforcement officers use these motorcycles as their preferred highway patrol vehicle.
Who we recommend this bike to: Suggested for couples, cruiser riders, and large engine sport bike riders on all US tours.
Big Takeaway: Adventure touring powerhouse
Seat heights: Adjustable
Standard seat: 33.5" – Low position, 34.3" – High position
Low seat: 32.3" – Low position, 33.1" – High position
Other details: Spoked rims
Excellent for hauling high speed highway miles solo or with a passenger and wonderfully balanced for off-pavement riding, the R 1250 GS is our most popular motorcycle with rental and tour guests. The rider and passenger seats can be set to high and low positions for your comfort. Handlebar grips get very toasty on these motorcycles. This is our only adventure touring model featuring a shaft drive, which not only lends to smooth shifting but for lazy riders like myself, it also means no chain maintenance.
Who we recommend this bike to: Suggested for single riders with at least a 29" inseam, and those with passengers hauling long miles on paved and maintained unpaved roads.
Big Takeaway: Dual sport dynamo
Seat Height: Standard Height – 33.9"
Low seat height – 32.9"
Other details: Spoked rims
Compared to the R 1250 GS, the F 850 GS units are 45lbs lighter with 2.3" more ground clearance which makes them so much fun beyond the pavement! This fresh design from BMW offers smooth highway riding and easy to plug tubeless tires with spoked rims. The grips on these models can heat up rapidly, which is wonderful on chilly mornings.
Who we recommend this bike to: Suggested for riders with at least a 31" inseam. Ideal for dual sport adventures. 
Big Takeaway: Fun on twisties and maintained dirt roads
Seat Height: Standard seat height – 32.1"
Low seat height – 31.1"
Other details: Cast aluminum rims
The BMW F 750 GS units have the lowest seat height and stance width in our fleet. It is a joy to ride on pavement and gravel roads. Your hands will stay toasty with the heated grips on these machines. These motorcycles are popular with our riders with shorter inseams and those who want to plant both feet on the ground at every stop. The rims on the F 750 GS are cast aluminum, which can invite a little more denting when hitting potholes or other obstructions, but are plenty durable.
Who we recommend this bike to: Suggested for riders with at least a 28" inseam, or those with longer legs who are not accustomed to riding upright adventure motorcycles. Riders over 5'10" might find the F 750 GS to be a bit too small. 
Suzuki DL650XT VStrom Adventure
Big Takeaway: MotoQuest's best bang for your buck!
Seat height: 32.9"
Other details: Spoked Rims
The DL650 is more capable than most riders give it credit for. Comfortable for two-up riding and light adventure touring, the DL650 is also one of the most forgiving motorcycles and very friendly to the new or developing rider. Having ridden one from Alaska to Baja, and around Eastern Europe, this is my go-to machine for long and short distance rides. These are stellar for riding through Canada or Baja as the speedometer can be easily switched between metric and imperial units.
Who we recommend this bike to: Suggested for riders with at least a 29" inseam. Riders over 6' might find the DL650 to be small. 
**Note: All seat heights listed are measured before the weight of a rider, passenger or luggage are added. Suggested inseam lengths are not a rule: many riders with shorter inseams are capable of riding tall motorcycles. Check out our friend, Jocelyn Snow's skills. 
Take Your Rental To Your Favorite Industry Events
With four rental facilities lining the west coast and of course Alaska, it will be easy to grab a MotoQuest bike and set out for an adventure to one of your favorite industry events.
Date (Closest Rental Facility) Event Name
May 15 – 17, 2020 (Los Angeles) Overland Expo – West
June 18 – 19, 2020 (Anchorage) Dust 2 Dawson
June 25 – 27, 2020 (Portland) BMW MOA Rally
June 25 – 28, 2020 (Portland) Touratech Rally – West
July 31 – August 3, 2020 (Portland) Rocky Mountain Roll
August 28 – 30, 2020 (Portland) Dream Roll
October 2020 (Los Angeles or San Francisco) Babes Ride Out 8 West Coast/Central Coast
Don't Delay! Highly Sought After Isle of Man Wales Adventure Has Four Spots Remaining
There is NOTHING like standing along the quaint and narrow country road that poses as the famed TT race way on the Isle of Man and hearing, and FEELING a superbike roar by you at speeds in excess of 200 miles an hour. The famed TT, the oldest and most dangerous motorcycle race in the world, will leave you with a slightly dizzy, incredulous tingle.
You would have already ridden the race circuit several times. You will have made it yours in your own little way – the curves, the subtle rises, the open stretches. You would have experienced it at a sporty clip and learned to appreciate it. But when the pros devour it with such reckless abandon that it seems they are not of this earth, this reality, you begin to wonder… Are they real? Is this race real?!
The TT race on the Isle of Man is a once in a lifetime event that will never be duplicated nor forgotten. We have just 4 spots remaining for our limited group at the end of May. 
Are you ready to be a part of something truly spectacular?