MONGOLIA ADVENTURE
Get ready for 12 full days of riding one of the wildest open country on earth. Bring your off road skills and your sense of adventure as you travel from the original birthplace of Genghis Khan to an eagle hunter's gathering in the far west. Most days will be spent off the pavement and most nights will be spent in tents as we experience Mongolia like few do. Ride through the vast open wilderness, learn about the history of Ghengis Khan, and experience first hand the skill and grace of the  famed eagle hunters of Mongolia.
Road Conditions: Some paved roads, mostly dirt surface.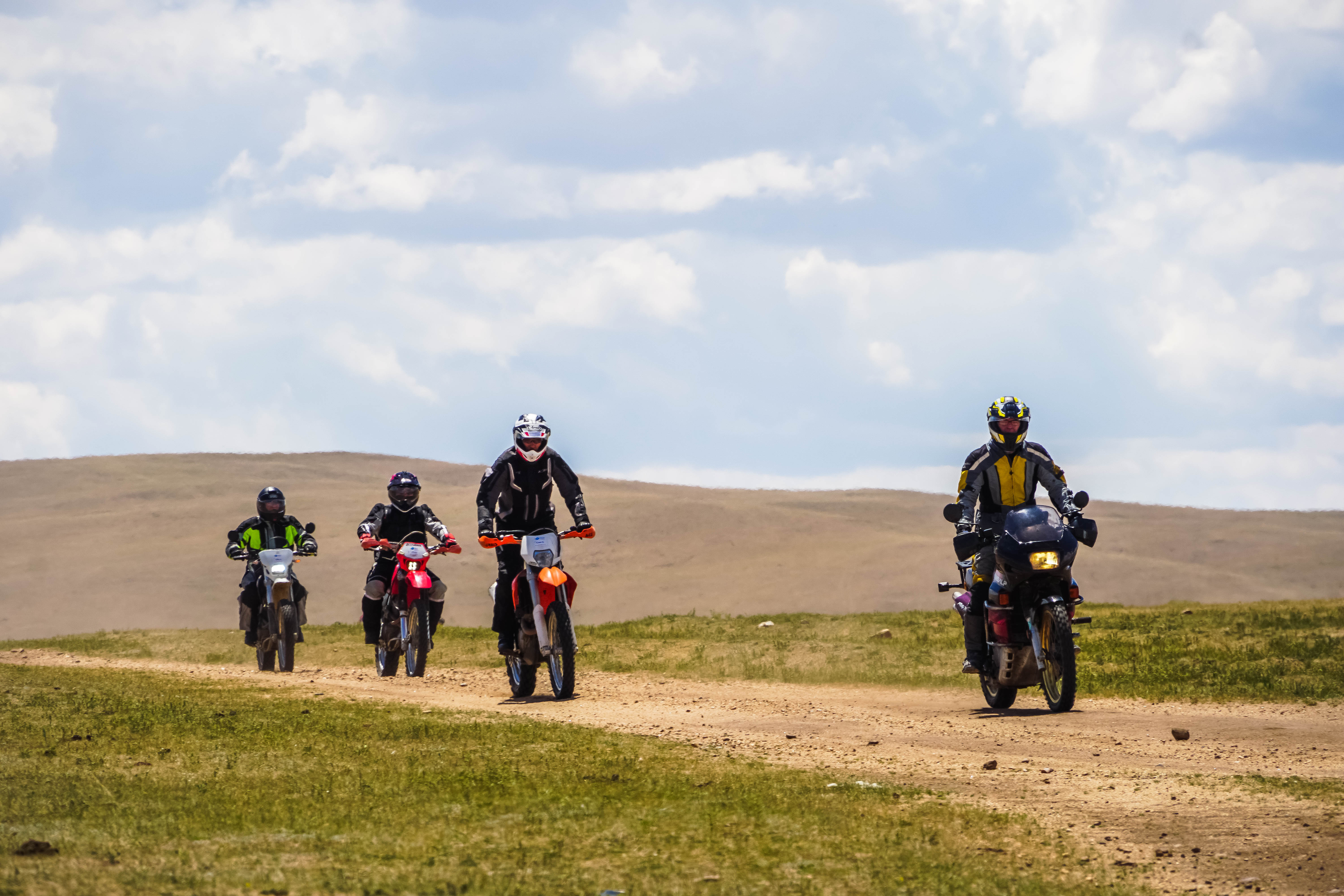 TOUR PRICING
| Arrival | Departure | *Double Occupancy | *Single Occupancy | *Couples Package |
| --- | --- | --- | --- | --- |
| September 06, 2023 | September 20, 2023 | $7,900 | $8,450 | Passengers not recommended for this ride. |
| September 04, 2024 | September 18, 2024 | $8,300 | $8,900 | |
| September 01, 2025 | September 15, 2025 | $8,700 | $9,300 | |
*Double Occupancy - Base Bike with a Shared Room
*Single Occupancy - Base Bike with Your Own Room
*Couples Package - Two Participants on One Base Bike in One Private Room
UPGRADE PRICING
| | |
| --- | --- |
| KTM 690 | Included |
| KTM 450EX | Included |
| Suzuki DRZ400 | Included |
| Suzuki DR600 | Included |
| Honda Trans Alp | Included |
| BMW F 800 GS | $800 |
ARRIVAL DAY
DAY 1 - Arrival in Ulaanbaatar. Transfer to ger camp outside of the city. Welcome dinner this evening. Stay at River Point Lodge.
DAY 2 - River Point Lodge to Blue Lake of Genghis Khan (150 miles)

Our goal this day is to go to the place where Genghis Khan grew up. Receive your bikes in the morning before riding on tarmac to Eastern Mongolia. Pulling off for a bit of dirt and gravel, we stop at the Genghis Khan Equestrian Monument for pictures before returning to pavement. After a picnic lunch, we'll continue on to Black Lake - the last 37 miles on dirt roads. Overnight in ger-style luxury tents with stoves. Stay near the Black Lake.


DAY 3 - Black Lake of Genghis Khan to River Point Lodge (150 miles)

We will take a different way back to River Point Lodge. Lunch in Terelj National Park and back to the lodge via a mountain road. Stay at River Point Lodge outside of Ulaanbaatar.


DAY 4 - River Point Lodge to Kharkhorin (240 miles)

We start our epic ride to Western Mongolia today. Ride tarmac for the first part of the day and visit Nustain Nuruu National Park. After exploring the area, we will continue to Kharkorin and stay at a ger camp.
DAY 5 - Kharkhorin to Tsenkher Hot Springs (100 miles)

In the morning we will visit the oldest Buddhist monastary in Mongolia - Erdene-Zuu Monastery. We will then take a ride to Tsenkher Hot Springs. Stay at a ger camp near the hot springs.

DAY 6 - Tsenkher Hot Springs to Terkhiin Tsagaan Lake (178 miles)

We will continue heading west today, with a stop over in the town of Tsetserleg. We will be able to check out a museum in the town before finishing the day staying on the shores of Terkhiin Tsagaan Lake in gers.

DAY 7 - Terkhiin Tsagaan Lake to Tosontsengel (161 miles)

We will explore the Khangai Range, averaging 8,200 feet above sea level, and cross over Solongot Pass (9,800). We will continue along the Ider River valley and Ikh-Uul village, arriving in town of Tosontsengel. Tosontsengel is famous for it's wild berries and lumber. Stay in gers near Totontsengel.



DAY 8 - Totontsengel to Songino (155 miles)

We will start into the grass plains of Zavkhan province today, riding flat dirt trails into vast grassland. We will make a stop on the way at an alpine lake called Telmen, before ending the day near Songino. Ger accommodations near Songino tonight.

DAY 9 - Songino to Khyargas Lake (145 miles)

We will continue west towards the Altai Mountains today. Stay on the shores of Khyargas Lake. Ger accommodations tonight.

DAY 10 - Khyargas Lake to Shaazgai Lake (120 miles)

We'll spend the first part of the day exploring around the shores of the massive Kyargas Lake. After lunch, we head into the trans-Altai semi-desert plains, where we will be passing by ancient stone tombs and stone monuments that date back to 6-8 Century A.D. Arrive in Shaazgai Lake overnight in gers owned by a local family. In the evening enjoy a folk performance put on by the locals!


DAY 11 - Shaazgai Lake to Ulgii (120 miles)

Today we'll ride to Bayan-Ulgii province along the Hovd river and via Achit Lake. We will arrive in the town of Ulgii and transfer to Altai Point camp, overnighting again in gers.

DAY 12 - Annual Golden Eagle Festival, Ulgii

This will be the first of two full days at the Golden Eagle Festival. We will spend today and tomorrow checking out the festival, doing day rides, and staying each night in Ulgii.
DAY 13- Annual Golden Eagle Festival, Ulgii

This will be the second day at the festival, where we will be able to witness the age old gathering of the Golden Eagle Hunters. Stay in Ulgii this evening.
DAY 14 - Ulgii to Ulaanbaatar

Fly from Ulgii to Ulaanbaatar and spend the rest of the day exploring the city before we get together for our official farewell dinner.
DAY 15 - Fly Home

Today is our departure day. Fly home, or keep the dream alive!
DEPARTURE DAY
MotoQuest guides wear KLIM helmets, jackets, pants and gloves, and we outfit our motorcycles with luggage and accessories from Twisted Throttle. You can view and download our complete MotoQuest packing list here.
Motorcycles Included
Motorcycles Available
Included With the Tour
Hotel Accommodations
Premiere Welcome and Farewell Dinners
Professional MotoQuest Guide(s)
Support Vehicle
Support Vehicle Driver
Staff Trained in First Aid with Satellite Phone
MotoQuest Swag Bag
Photos Taken on the Trip
Automatic Enrollment in Global Rescue
Not Included
Airfare
Meals on the Road
Gas
Alcohol
Alternative Tours
Travel Insurance
Gratuities
National Park Entrance Fees
Special Circumstances
All meals and gas are included in our Mongolia Scouting Adventure.