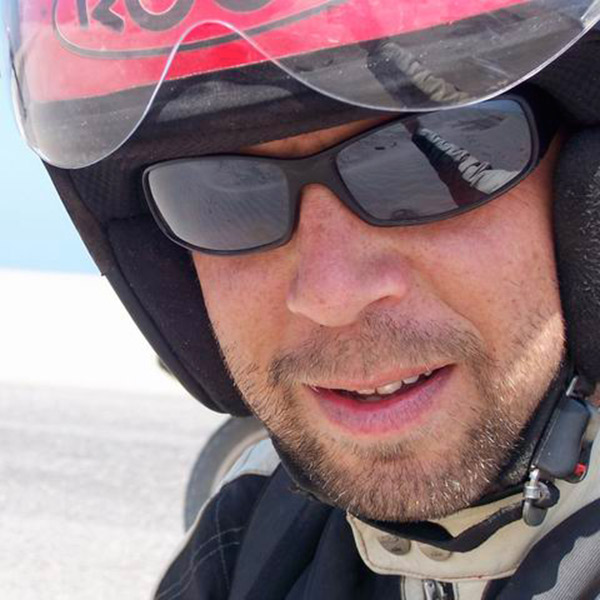 Simon Siggs grew up riding motorcycles in downtown London. On a whim, he joined an Alaska Rider motorcycle tour one summer. Since then, he has never been the same. All he can consciously think about is his next motorcycle adventure. Since the Alaska trip, Simon has ridden extensively in Great Britain, South Africa and Alaska again. He has also ridden solo from Prudhoe Bay to Ushuaia, Tierra del Fuego. During that ride, he raised money and awareness for Fragile X Syndrome. Simon is one of the funniest, most optimistic people you will ever meet. He always has something interesting to say, and usually it leaves you in stitches!
MotoQuest Staff Info
Name:
Simon Siggs
Role:
Tour Escort
Quote:
The aim of life is to live, and to live means to be aware, joyously, drunkenly, serenely, divinely aware. (Henry Miller)
Email:
Hometown:
London
Current Location:
London (painfully wanting to be away in the wilds)
Destinations Traveled by Motorcycle:
Alaska 3 times, NW Canada, Montana, Wyoming, Colorado, Arizona, Mexico, Central America, Colombia, Ecuador, Peru, Bolivia, Argentina, Chile, South Africa, Laos
Favorite Motorcycle Experience:
My first tour of Alaska with AK Rider. It opened me up to motorcycle adventure.
Worst Motorcycle Experience:
Never had one. (but if I had to say one , its being face down in the sand with a dislocated shoulder high up in the Andes)
Languages Spoken:
English
Motorcycles Owned:
Yamaha 50cc, Yamaha RD 125lc, Yamaha RD 350lc, Yamaha R6, Yamaha R1, Kawasaki Zephyr, KTM Duke, Yamaha Fazer, Suzuki GSXR1000, Yamaha XT660x, Kawasaki KLR650
Favorite Motorcycle:
My work horse Kawasaki KLR
Tours Guided:
Expertise:
He has no training in anything.... but does seem to have an ability mime well, when trying to communicate. Just following his handlebars is the only experience really , oh, and sniffing out good local beers !